ZLG Series Marine Vertical Axial Flow Pump:
China ZLG Series Marine Vertical Axial Flow Pump:
ZLG series vertical axial-flow pump can be used to suck sea water,fresh water or send chemical properties similar liquid, allows fluid contains a certain amount of particles impurities,the highest temperature of the liquid to be delivered should not be higher than 85℃. Water pump flow range for 450m³/h-36000m³/h,head of the range is 1.5m-35m.
ZLG series pump shaft flow of vertical fixed leaves Angle submerged pumps,the current production model to have 12,14,16,20,24,28,36,40,50,a total of 56 ten specifications,the change in the corner leaves for forty specifications.
ZLG series pump can be used for shipyard dock,floating dock,large ships suck,it can also be used for drainage and irrigation water diversion of water conservancy project. This series of pumps is simple in structure, easy installation, absorb large displacement,high efficiency,easy to maintain and overhaul, long service life,less maintenance,energy saving etc.
Construction of pump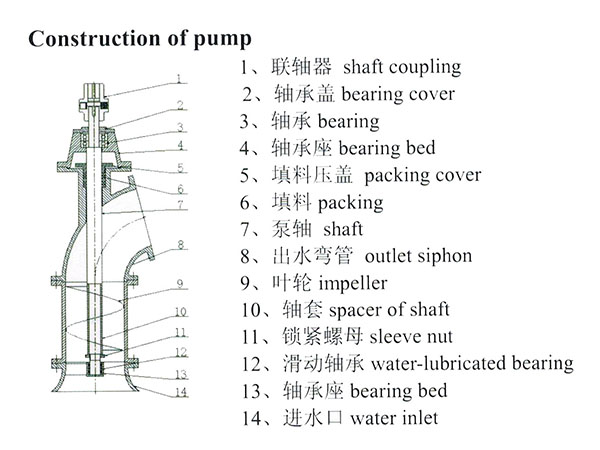 Main Technical Data
Model
Flow rate
Q(m³/h)
Lift
H (m)
Rev speed
r/min
Motor
power (KW)
ZLG-12
450
3.42
1460
7.5
ZLG-14
760
8.65
1460
30
ZLG-16
743
4.06
950
22
ZLG-20
1480
4.16
730
30
ZLG-24
2127
4.87
680
45
ZLG-28
3520
5.5
580
75
ZLG-36
6510
5.4
480
160
ZLG-40
10080
15
585
520
ZLG-48
9060
9.06
480
350
ZLG-56
17830
7.54
360
500