TG19 Spot Light:
The scope of application
This product is designed to use for illumination as flood lighting at all kinds of ship, dock, port and wharf, storage yard and gym etc. Outdoor workplace like above.
Products feature
1. Easy to replace the bulbs.
2. The body of light is made of good quality stainless steel material by compression molding with excellent corrosion resistance.
3. The shade adopt toughened glass.
4. The body of light can be adjusted 90 degree up and 45 degree down.
5. High-pure aluminum reflector with perfect reflective effect.
6. The cable outside diameter is Φ10~Φ14mm.
Adopt standard and product certification
1. Conform to RULES FOR CLASSIFICATION OF SEA-GOING STEEL SHIPS.
2. Conform to GB7000.7 of SAFETY REQUIREMENTS FOR FLOOD LIGHT.
3. Conform to GD01 of GUIDELINES FOR TYPE APPROVAL TEST OF ELECTRIC AND ELECTRONIC PRODUCTS.
Installation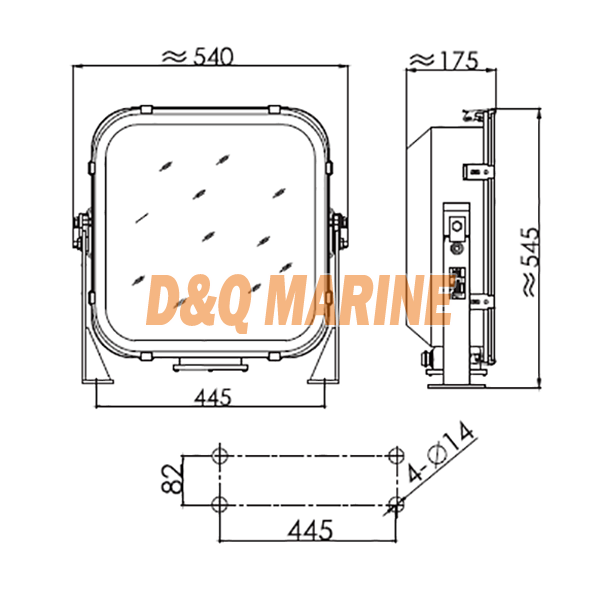 Ballast Box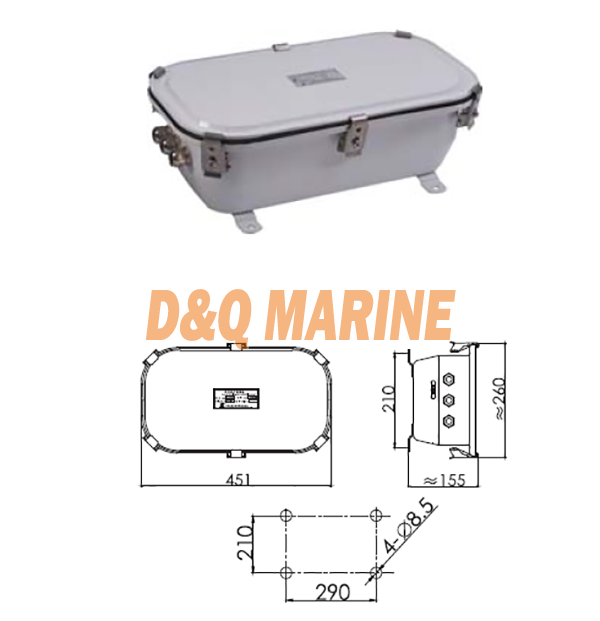 TG19 Spot Light Specification
Type
Voltage(V)
Llluminant
Power(W)
Luminous Flux(Lm)
Weight(Kg)
Remark
TG19
220V/50HZ 220V/60HZ
Tungsten Halogen Lamp(Type JTT)
2*500
2*8500
13.7
2*1000
2*2200
220V/50HZ 220V/60HZ 110V/60HZ
HP Sodium Lamp
2*250
2*26000
13.9
With Ballast Box
2*400
2*4700
Metal Halide Lamp
2*250
2*20500
2*400
2*36000
TG19 Integration
220V/50HZ 220V/60HZ
HP Sodium Lamp
2*250
1*26000
15.9
Ballast Inside of light
220V/60HZ
1*400
1*47000
16.8
110V/60HZ
18.7
220V/50HZ 220V/60HZ
Metal Halide Lamp
2*250
1*20500
15.9
220V/60HZ
1*400
1*36000
16.7
110V/60HZ
18.7