FDL-R13/R14 Spot Light:
The scope of application
This product is designed to use for spot lighting in ship, shipyard, port, wharf, storage yard, and oil-platform etc.
Products feature
1. The body and support of light adopt good quality stainless steel which are molded by compression molding, with the feature of excellent corrosion resistance.
2. The body of light can be adjusted 46 degree up, 45 degree down and rotated 360 degree in horizontal.
3. The cable outside diameter is Φ12~Φ14 mm.
4. Protection class: IP56
Adopt standard and product certification
1. Conform to RULES FOR CLASSIFICATION OF SEA-GOING STEEL SHIPS.
2. Conform to GB7000.7 of SAFETY REQUIREMENTS FOR FLOOD LIGHT.
3. Adopt JAPAN JIS C8105-2-5-2003 STANDARD TO ORGANIZE PRODUCTION.
Installation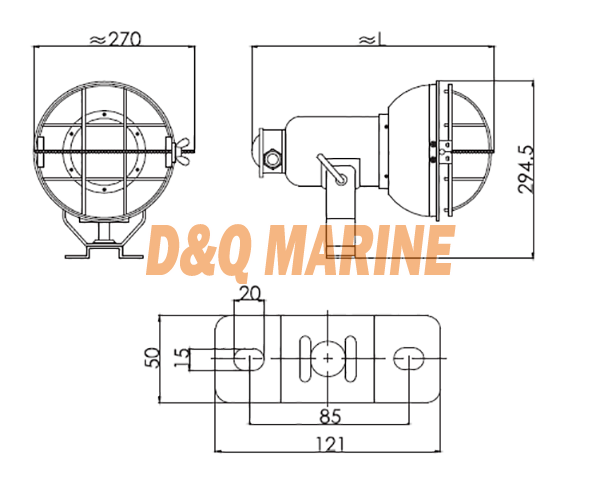 FDL-R13/R14 Spot Light Specification
Type
L(mm)
Voltage(V)
Llluminant
Luminous Flux(Lm)
Using Life(H)
Weight(Kg)
FDL-R13
390
220V/50HZ 220V/60HZ 110V/60HZ
Incandesecent Lamp Spot Type
RS300/500WH
2920/5120
2000
3.2
Incandesecent Lamp Wide Type
RF300/500WH
Self-Ballast Mercury Light
BHRF300/500WH
4100/9000
9000
Tungsten Halogen Lamp
JD250/500WH
3570/7000
2000
FDL-R14
434
Mercury Lamp Clear Type
HR250/300/400N
8700/9600/1300
12000
3.3
Mercury Lamp Fluorescent Type
HRF200/250/300/400X
7000/9500/11500/15000
Incandesecent Lamp Spot Type
RS1000WH
10800
2000
3.5
Incandesecent Lamp Wide Type
RF750/1000WH
8100/10800