DF-ISO Stainless Steel PV Valve:
China DF-ISO Stainless Steel PV Valve: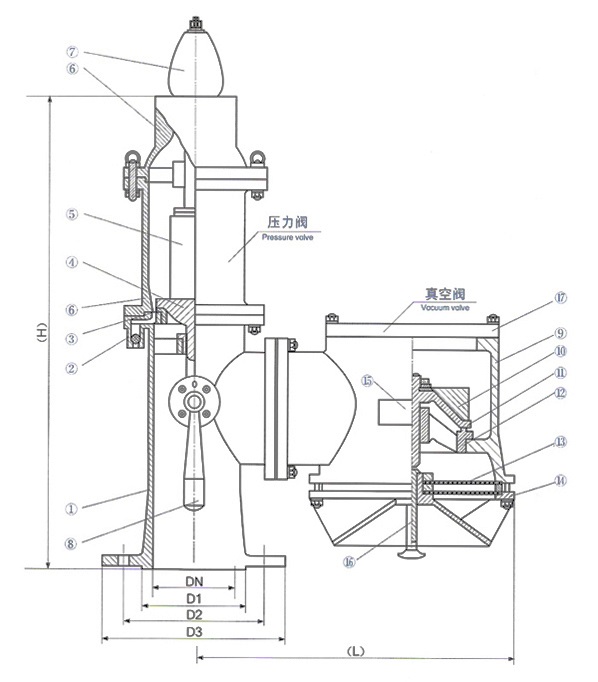 PV valve is the abbreviation of High Velocity Pressure Vacuum Valve, generally used in the relief system of the oil tanker and chemical tanker, according to the current regulations IMO and IBC.
When the pressure in the tank reaches the set pressure of relief valve, the gas in the tank will be released with the speed of over 30m/s. The vacuum will beformed while the cargo oil tank is unloading, when the vacuum pressure reaches the set pressure of vacuum valve (normally it is -3.5Kpa), the vacuum valve will open automatically,then the air will go into the tank through the flame screen.
Technical Specification:
1. Design Standard: ISO 15364-2007, MSC/circ. 677, GB/T19699-2012, MSC.1/circ. 1324, MSC/circ. 1009
2. Flange Standard: GB2506, JIS B2220, ANSI, DIN
3. Design Pressure:
Opening Pressure of Pressure valve: 14Kpa for Oil cargo tank, 20Kpa fo chemical cargo tank.
Opening pressure of Vacuum Valve: -3.5Kpa.
4. Material: SUS304, SUS316L
Certificate:
CCS, BV, ABS Type Approval Certificate and Product Certificate, NK product certificate
Main Parts and Material:
| | | | |
| --- | --- | --- | --- |
| Serial No. | Parts | Quantity | Material |
| 1 | P-valve base | 1 | Stainless Steel |
| 2 | Water nozzle | 1 | Stainless Steel |
| 3 | P-valve seat | 1 | Stainless Steel |
| 4 | P-valve disc | 1 | Stainless Steel |
| 5 | Matching block | 1 | Stainless Steel |
| 6 | P-valve body (A) (B) | 1 | Stainless Steel |
| 7 | Conducting machine | 1 | Stainless Steel |
| 8 | Handle | 1 | Stainless Steel |
| 9 | V-valve body | 1 | Stainless Steel |
| 10 | Matching block | 1 | Stainless Steel |
| 11 | V-valve disc | 1 | Stainless Steel |
| 12 | V-valve seat | 1 | Stainless Steel |
| 13 | Flame screen | 2 | Stainless Steel |
| 14 | Flame screen gland | 1 | Stainless Steel |
| 15 | Nameplate | 1 | Stainless Steel |
| 16 | Climbing pole | 1 | Stainless Steel |
| 17 | Gas-freeing cover or V-valve cover | 1 | Stainless Steel |
Technical Parameters:
Type
Desinged Opening Pressure(Kpa)
Rated Working Pressure (Kpa)
Hydraulic Test Press (Mpa)
Velocity (m/s)
Rated Flow Rate(m3/h)
Pressure Valve
Vacuum Valve
Pressure Valve
Vacuum Valve
Pressure Valve
Vacuum Valve
DF50
14~20
-3.5
21
-7
0.345
≥30
300
300
DF65
400
400
DF80
600
500
DF100
800
600
DF125
1000
800
DF150
2500
2200
DF200
3000
3000
DF250
3500
3000